Black Dragon

In-game appearance
Statistics
Health
Medium-Low
Location
Panthalassa
The
Black Dragon
(ブラックドラゴン) is an underwater reptile in
The Ocean Hunter
. He is the third sub boss in
Panthalassa
.
The Ocean Hunter
Edit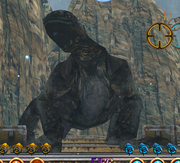 Shortly after defeating Umi-Bozu, Torel and Chris finally reached the temple. As they pass by a suspicious-looking "statue" near the entrance, upon seeing it, the two adventurers will feel uncomfortable ("I have a bad feeling."). At that moment, just when the two turn around, the "statue", which was the Black Dragon in-disguise, suddenly moved to attack ("I was right!").
Sunburst Area/Vulnerable Area: Entire body
Sweet Spot/Weakpoint: Head
The Black Dragon's attack pattern is the same as the Sea Dragon, albeit considerably swifter. Regardless the Black Dragon is relatively easy to defeat; the player(s) must fire continuously at the monster until he runs out of health.
Etymology
Edit
Although the Black Dragon is identical to the Sea Dragon, except with a dark, ebony color, it is common in many stories for a being that is evil and powerful to be colored and have the word "black" in the name.[1]
The Black Dragon is a black repaint of the optional sub boss Sea Dragon and has the same characteristics as it.
References
Edit